Man sells his cheating wife's wedding dress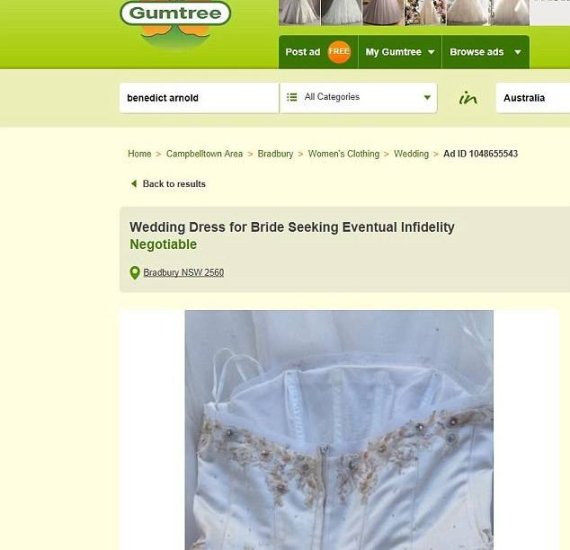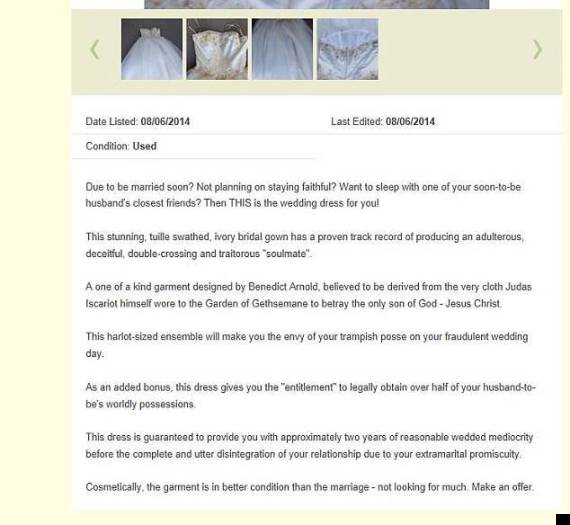 He writes: "Due to be married soon? Not planning on staying faithful? Want to sleep with one of your soon-to-be husband's closest friends? Then THIS is the wedding dress for you!
"This stunning, tuille swathed, ivory bridal gown has a proven track record of producing an adulterous, deceitful, double-crossing and traitorous soulmate."
"A one of a kind garment designed by Benedict Arnold, believed to be derived from the very cloth Judas Iscariot himself wore to the Garden of Gethsemane to betray the only son of God – Jesus Christ."
Photo & Source : Huffingtonpost

The wildest, most controversial show in all of Southwest FL!!! We talk about everything from porno to politics, and no matter what, we're sure to keep you listening!! Agree, or disagree, fans from all over listen to The Freakshow every weekday morning from 6-10 to see what we're gonna do next!!! The Freakshow is hosted by Flyin' Brian, and love him, or hate him, he says what's on his mind in a very blunt way...almost too blunt!! Listen to the Freaks every weekday morning from 6-10 on your party station!!