Six-Pack Mom's Clap Back to Body Shamers Is Extra Sweaty
Sarah Stage is seven months pregnant — and she's not here for the haters.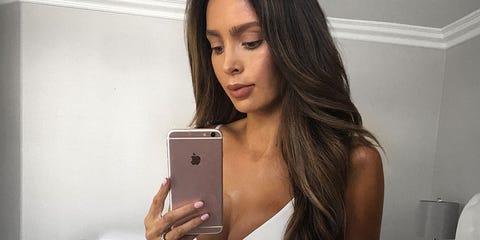 INSTAGRAM/ @SARAHSTAGE
Aug 2, 2017
Model Sarah Stage earned the nickname "Six-Pack Mom" when her abdominal definition remained intact throughout her first pregnancy. Now seven months pregnant with her second child, she recently posted a loud, clear, and sweaty message dedicated to the haters who continue to troll her:
Sarah is working out like it ain't no thang — despite the fact that a few weeks ago, her followers critiqued the safety of her prenatal workouts. The workout in question featured standard crunches, but the American College of Obstetricians and Gynecologists (ACOG) warns pregnant woman to avoid lying face-up on the back for long periods of time, particularly after the first trimester of pregnancy, /// when the position can put pressure on the arterythat delivers oxygenated blood to both your organs and tissues, and your baby.
In her latest workout, Sarah forgoes crunches and instead sticks with lunges, planks, squats, and standing abdominal work — none of which are super controversial for pregnant women who are cleared for exercise by their doctors, as per ACOG guidelines. In her caption, Sarah specifically addresses people who might still take issue with her routine:
"I represent anyone who has dealt with doubters, trolls, and bullies. It feels great to prove ignorant people wrong and even better to know that all you have to do is believe in yourself."
Because haters gonna hate, many followers have already commented on her latest workout — not on her moves, but on the small size of her belly. "How do you look so thin but pregnant," one wrote. "It amazes me that there's a baby in there and so far along!"
She received similar comments the day before, in response to a bikini photo where it's hard to make out a noticeable bump:
"I literally hate you," one commenter wrote. "I breathe, and I gain 6 pounds. Where TF's the baby, in your ass!?"
Although Sarah has not yet responded to a request for comment, it's never cool to provide unsolicited feedback on the way a woman's body looks or responds to pregnancy. So can we all just #StandBySarah?
Source: cosmopolitan.com