There's a major problem with both Apple and Google's burger emoji
IMAGE: SHUTTERSTOCK / ANDREY ARMYAGOV
Are you team Apple or team Google? We're not asking about your choice of smartphone, laptop or tablet.
We're talking about burger ingredients. Specifically, those featured in Apple and Google's differing burger emoji.
A full-scale debate has broken out after someone tweeted an image comparing Apple and Google's burger emoji and—rather crucially—the order in which their ingredients are stacked.
So hot is this debate that Google's CEO Sundar Pichai has waded in, promising to address Google's emoji as a matter of urgency.


So, what exactly is the problem here? Both Apple and Google's emoji appear to have burger ingredients stacked in the incorrect order. And, burger enthusiasts will not rest until something is done about it.
Google's version of the emoji places the cheese underneath the burger, with the lettuce leaf on top of all the other ingredients. Meanwhile, Apple's version has the cheese placed atop the burger, with lettuce underneath the patty.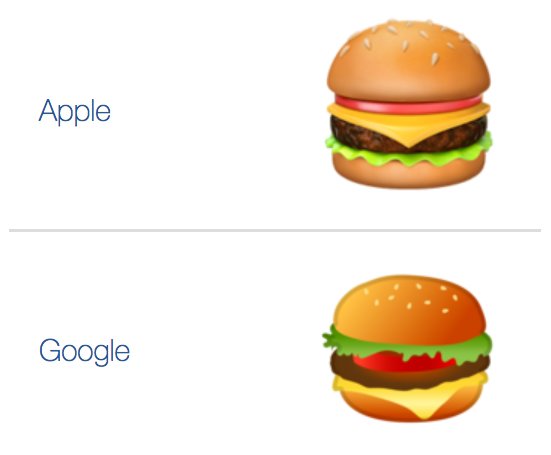 The obvious concern was Google's bizarre decision to place the cheese underneath the meat. But, many people were quick to point out that Apple's emoji was also fatally flawed for a different reason - even if they did manage to get the cheese placement right.
Apple's decision to place the lettuce underneath the burger also proved highly contentious:
Burger enthusiasts flocked to Twitter to note that lettuce shouldn't be in direct contact with the burger, because heat makes it go dark (and soggy!). Not exactly an appetizing thought.
Followronalson filho

@ronalson

Replying to @alex_insist and 2 others

but lettuces gets dark when in direct contact with heat. guess the isolation w/ makes more sense here.

8:02 PM - Oct 28, 2017 ·

Rio de Janeiro, Brazil
One gastronome hopped in to defend Apple's placing of the lettuce underneath the burger, for meat-juice-soaking reasons. (Ew!)
DARK ALEX RISING

@alex_insist

Replying to @baekdal @teroterotero

lettuce under meat keeps the bottom bun from getting (as) soggy with meat juice.

5:04 PM - Oct 28, 2017
Amid this fierce debate, Jeremy Burge—editor of Emojipedia and vice-chair of the Unicode emoji subcommittee—began reaching out to burger brands to find out the order in which they stack their ingredients. He also polled burger-loving Twitter users to find out their ingredient-stacking preferences.
Outlining his findings in a blog post, Burge says his research suggests the majority of people prefer their burgers stacked from top-to-bottom in the following order: salad, cheese, and then meat.


Anything to add, Tim Cook?
Source: mashable.com