'Buttless jeans' mocked after ASOS debut
A clothing company called The Ragged Priest is offering some pants that certainly dare to bare. (ASOS)
Move over, thong jeans. A new pair of highly ridiculous pants has crept its way into the New Year.
Online retailer ASOS has recently started offering a pair of light wash, loose cut, and totally backless women's denim jeans from The Ragged Priest, held up on the front of the thighs with silver chains, reports Yahoo Lifestyle.
While the British brand's risqué bottoms lack a traditionally essential element of pants, they're priced at $125. Yahoo adds that the black underwear shown on the modelling the "buttless jeans" are not included in the purchase price.
Naturally, the Twitterverse reacted to the pants with strong emotion, mostly mocking the bizarre design.
Jade

@Girlyougotstyle

Ragged Priest, u ok hun?

6:04 AM - Dec 24, 2017



lou

@louisenaylor_

When you go on asos to look for jeans and these are some of the options. I think I'll just pass.

12:57 PM - Jan 8, 2018
Citizen Helene

@citizenhelene

The Ragged Priest honestly need to just stop

5:12 AM - Jan 9, 2018



With some users sounding off that the brand "honestly need[s] to just stop" and voicing their dissonance with ASOS' overall jeans department, The Sun went so far as to send out a (brave) model into the streets of London to test them.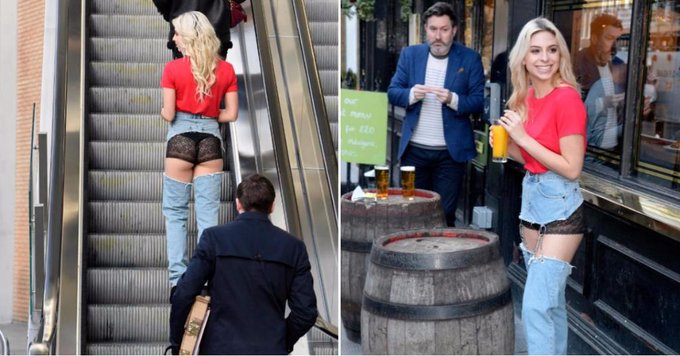 Fabulous

✔

@Fabulousmag

This is what happened when we sent a brave woman out onto the streets of London in those crotchless ASOS jeans https://www.thesun.co.uk/fabulous/5315091/model-tries-crotchless-jeans-asos-shirley-ballas-loose-women/ …

4:11 AM - Jan 11, 2018



The jeans, meanwhile, have disappeared from ASOS' website. It's unclear if ASOS plans to reintroduce them to its catalogue in the future.
Source: foxnews.com